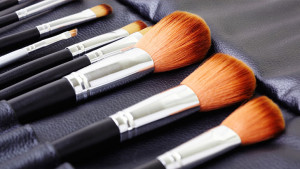 Yeehaw – We no longer need to look like a woman in their productive years.  But just because we are "over the hill" by the fashion industry's standards, doesn't mean we have given up being vibrant, beautiful, intelligent and charming.  In fact, we have never been better.  Just look at Meryl Streep in the Devil Wear's Prada or Helen Mirren in anything.  Of course, they have specialists helping them of course to achieve a beautiful, gracefully aging look.  But with some professional techniques, commitment and practice, we can achieve the same thing. So here are some practical, and I hope amusing, beauty tips to keep your inner goddess glowing right through to that centurion stage and beyond.
What you "think" shows on your face. But it's a hard trek for good thoughts to get past age spots, rosacea, dark circles and sun-damaged skin.  First and foremost, apply a 50-SPF sunblock remembering your decollete and forearms too. Wait 2-5 minutes and apply a dual finish powder (the original mineral powder – but with staying power).
Concealers – There are myriad on the market.  But for those that have no time and lots of inclination, keep this in mind. Usually the thinner the consistency, the less the coverage.  Like tinted moisturizer, these should only be reserved for the under 21 set, unless you've had extensive dermatological interventions.  Some marks on the other side of 50 can be large and multiple. But with good coverage well blended, especially around the nose, eyes, mouth and any spots or discoloration you'll be good to go with a little fixing powder or dual finish powder to set the product.
A light yet good coverage foundation will even out everything and allow that charm to shine through. Liquids and creams melt too quickly in hot, humid weather. MAC Studio Fix or Palladio (my personal fave & now sold at Sally's Beauty) applied with a powder brush or sponge in a stipple motion on problem areas will give you the best coverage and wear much longer.  Not to worry about looking powdery either. After 15 minutes a glow will come through the powder and look like you've applied an illuminator. Or you can simply spritz your face with water mist if you're in a hurry. Remember, anything creamy ends up looking greasy rather than glowy.
Brows –  Hmmm……do they need the weed-wacker?  Are you reticent to remove the ones you don't need because the ones you do need aren't there any longer?  Do you have some hairs that are long enough wrap around the rope of an anchor mooring a cruise ship?  Or are you as bald as the boomer men we see embracing their billiard look?
I LOVE eyeliner sealant, or waterproof brow pencil (Annabelle is great and priced right) and eyeshadow mixed to shape and fill in brows.  The sealant keeps them waterproof and adheres to skin where it becomes as smooth as a baby's bottom.  Check out my eyebrow tutorial, along with this video.
Eyeliner – If you're past the "cougar" stage, then avoid liquid eyeliners – especially in black – yikes!  But, a soft black or a dark brown eyeshadow mixed with a steel or medium true gray dropped along your lash line and smudged according to your eye shape will give you that sultry senior look, and in an elegant and chic way. As well, or alternatively, use either a gel liner or a waterproof eye pencil on the inside rim of your upper lid. This is one of my fave techniques as it gives great strength to the eye in a graceful way. You achieve the drama without the harshness.
Lashes – cutting to the chase here – this maven favours demi lashes (half a strip lash on the outer corner of the lash line). Talk about a time saver, an instant lash and esteem builder – va va va voom? Apply a mascara to both the false and your own lashes and you're good to go – ALL day and night too. Check my Youtube video for application techniques.
Finishing Touches – For all day lips, blush and eyeshadow check my blog post for details http://bridesbeautiful.blogspot.com/2010/01/3-essential-makeup-finishing-touches.html  And check out the "4 Cornerstones of Great Makeup" at www.youtube.com/twominutetips found in the "Beauty" Playlist.
YOUR CROWNING GLORY
Like everything else that thins out and falls down, the hair on our head doesn't escape the ravages of a well-lived life either (at least for most).  For those who still enjoy a full head of locks, you have myriad styling options available. But for those with thinning hair, a strategic plan is always a good plan Stan.
From my considerable experience and professional POV, keeping it short, lifted, spiked and styled with Toppik hair filler to minimize the contrast between your scalp and your hair colour is one good approach. More information on this here.
The other alternative is to keep it longer – yes that's right – long enough to put up or back. Extensions are a wonderful filler and you only need a few to aid in the volumizing of your silver or coloured luscious locks.
Putting it All Together
Superb makeup and hair only needs a well-suited and well-fitted wardrobe to complete your sumptuous senior style. Some tips to consider:
Minimize – figure spots that are over-sized or too thin
Maximize – figure areas that are trim and proportioned
Shift Attention – away from problem areas and toward assets
Balance – areas of the figure that are not in proportion
Embrace – good fabrics, fit, comfort, suitability and classic looks whenever possible
Like other self-assured icons, money well spent on your "unique fashion style" is more about quality over quantity. French women who are revered for their exquisite fashion sense have known and practiced this for decades.
For lots more tips that work for any age, check out "Looking Good", The Fast & Easy Way. http://sharondanley.com/ebooks.html
– Sharon Danley